7 YEAR
WARRANTY
30 DAY RISK
FREE RETURN
FREE MAINLAND UK
DELIVERY
UK BASED
CUSTOMER SERVICE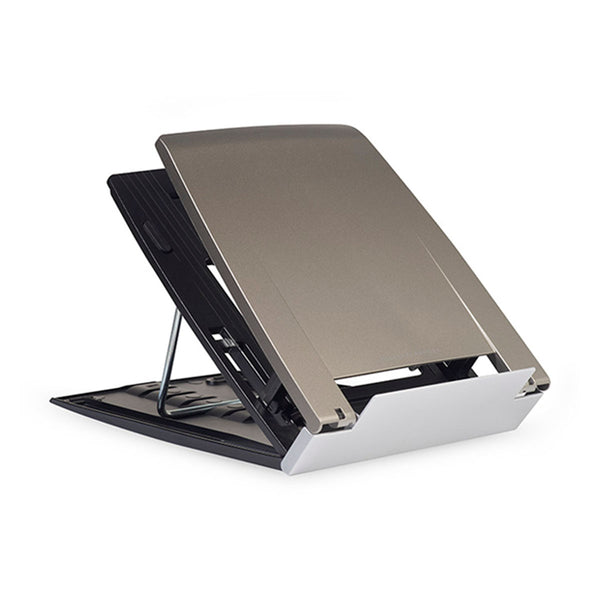 Ergo-Q 330 Laptop Stand
£82.00
(Ex VAT:

£68.33

)
£79.17
The Bakker Elkhuizen Ergo-Q 330 Laptop Stand is a premium mobile laptop stand, ensuring a healthy and active working style wherever you are. Also featuring an integrated document holder, the Ergo-Q 330 enables you to work comfortably with a correct posture.
Integrated document holder
6 Height settings

Achieve the right viewing height and distance
Easily transportable
Prevents neck rotation
30 day risk free returns

Pay in 3 instalments with Klarna. Learn more
Hurry while stocks last!
The Ergo-Q 160 Laptop Stand helps you work more comfortably as you can choose the right height for your screen and prevent bending your neck and back. Keeping your work in line with your eyesight also relieves the strain on your eyes.
Designed to increase productivity, the laptop stand also features a document holder, allowing your documents and laptop to be in immediate sight, therefore reducing the time between viewing your documents and viewing the screen.
A premium, ergonomic desk accessory by Bakker Elkhuizen.
Key Features

Dimensions
Length: 310mm
Width: 228mm
Height: 13mm
Weight
490g
Laptop/Screen Sizes Supported
13.3, 14, 15.6, 16, 17 inches
Weight Capacity
6kg
Maximum Laptop Thickness
35mm
Height Adjustable
Yes - 6 settings
Height Settings
115mm, 140mm, 160mm, 175mm, 185mm, 190mm
Tiltable (up or down)
No
Anti-slip Feet
No
Environmental
Product: Material
Plastic, Rubber, Steel
Product: Recycled Content
0%
Product: Recyclable Content
0%
Package: Material
Plastic, Paper
Package: Recycled Content
0%
Package: Recyclable Content
100%
Package
Package Dimensions
Length: 315mm
Width: 235mm
Height: 25mm
Total Weight
680g
Delivery
To ensure all of our products arrive in perfect condition, we only use trusted and reputable delivery partners.
Costs
Shipping is free within Mainland UK.
Shipping to Northern Ireland is an additional £90 + VAT / order, while larger pallet orders may be subject to additional fees.
Shipping to UK islands (Orkney, Isle of Man, etc), Ireland and Mainland Europe is priced upon request depending on external courier charges.
Please select the correct delivery type or we will be unable to process the order. For other destinations please contact us directly for a quote.
Please note in the event you are not unavailable to take delivery at the agreed date of delivery a re-delivery charge of £45 may be applied.
Delivery Times
Delivery times vary depending on the stock/items you have purchased. Please contact us for more information.
Same Day Dispatch is available on selected desks* if ordered before 2pm. Check the information in the "Delivery and Returns" tab on specific products. Subject to stock availability.
Returns
All goods must be examined on delivery and any fault or missing item(s) noted in full on the accompanying paperwork. Failure to comply with the above, will result in all claims for damage, fault or missing items being rejected.
If you are not satisfied with your purchase, you may return it to us within 30 days, and receive a full refund on your order.
We will cover the cost of returning the items and arrange for transit for collection; however, to qualify for a refund, items must be returned without damage, in the original packaging. Do not damage the packaging.
Please notify us within 24 hours of delivery if you intend to return a purchase. Authorisation is required prior to the return of any item, please do not attempt to return items on your own, as stated above we will arrange return.
Please contact us should you have any questions.