7 YEAR
WARRANTY
30 DAY RISK
FREE RETURN
FREE MAINLAND UK
DELIVERY
UK BASED
CUSTOMER SERVICE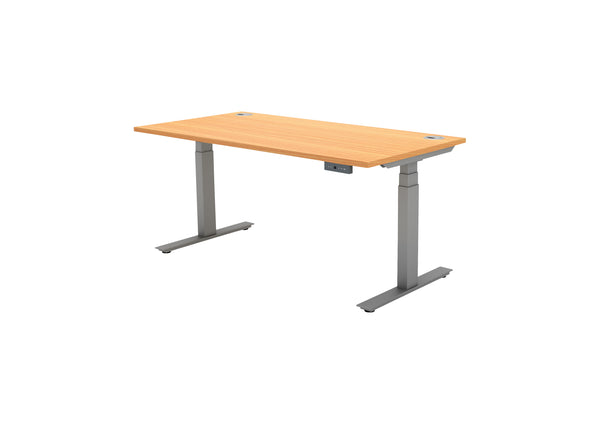 Autonomy Pro Standing Desk
£672.00
(Ex VAT:

£560.00

)
The Autonomy Pro electric standing desk helps keep you active at work or in the home office. Raise and lower the height adjustable desk from 64cm – 130cm at the touch of a button - one of the largest variable movements on the market. 
Highly stable solid steel frame.
Energy efficient automatic standby mode
Free

 

delivery to

 

mainland UK

30 day

 

risk

 

free

 

returns
7 Year warranty
Pay in 3 installments with Klarna. Learn more
The Autonomy Pro electric standing desk helps keep you active at work or in the home office. Raise and lower the height adjustable desk from 64cm – 130cm at the touch of a button - one of the largest variable movements on the market. The digital display and controller is equipped with an up and down button, a home button set at 72cm and two memory set buttons. The control operates the movement of the three part telescopic legs at a rate of 3cm per second.
An even lift is ensured by an intelligent regulator, which introduces temporary lock down when over used. For low energy consumption the desk switches to sleep mode after a period of inactivity. The Autonomy Pro electric standing desk can lift evenly up to an incredible 130kgs.
The safety features of the Autonomy Pro include an anti-crush sensor which switches off the control when an obstruction is detected. There are no exposed moving parts as there are two independent motors (one inside each leg).

Key Features

Type
Motorised
Motors
Dual

Height Range
630-1300mm
Load Capacity
130kg
Frame Width Adjustment
1200-1800mm
Foot Depth
680mm
Side Supports Depth

575mm
Speed
30mm/s
Memory Control?
Included

Frame Weight
41kg

Thermal Protection?

Yes

Anti-Collision?

Basic

Overload Protection?

No

Package and Building
Frame Packaging
Size - 1080 x 270 x 325mm
Weight - 45kg
Quantity - 1
Top Packaging

Size - (1

225

 - 1

825

) x 

825 

x 50mm




Weight - 20-30kg




Quantity - 1

Build Time
20-30 mins
Suitable for self build?
Yes
Other
Voltage
100-240V/Output voltage 18v DC
Duty Cycle
10% - 2mins on, 18mins off
Operational Life
10,000 cycles at full rated load
Delivery
To ensure all of our products arrive in perfect condition, we only use trusted and reputable delivery partners.
Costs
Shipping is free within Mainland UK.
Shipping to Northern Ireland is an additional £90 + VAT / order, while larger pallet orders may be subject to additional fees.
Shipping to UK islands (Orkney, Isle of Man, etc), Ireland and Mainland Europe is priced upon request depending on external courier charges.
Please select the correct delivery type or we will be unable to process the order. For other destinations please contact us directly for a quote.
Please note in the event you are not unavailable to take delivery at the agreed date of delivery a re-delivery charge of £45 may be applied.
Delivery Times
Delivery times vary depending on the stock/items you have purchased. Please contact us for more information.
Same Day Dispatch is available on selected desks* if ordered before 2pm. Check the information in the "Delivery and Returns" tab on specific products. Subject to stock availability.
Returns
All goods must be examined on delivery and any fault or missing item(s) noted in full on the accompanying paperwork. Failure to comply with the above, will result in all claims for damage, fault or missing items being rejected.
If you are not satisfied with your purchase, you may return it to us within 30 days, and receive a full refund on your order.
We will cover the cost of returning the items and arrange for transit for collection; however, to qualify for a refund, items must be returned without damage, in the original packaging. Do not damage the packaging.
Please notify us within 24 hours of delivery if you intend to return a purchase. Authorisation is required prior to the return of any item, please do not attempt to return items on your own, as stated above we will arrange return.
Please contact us should you have any questions.
Well worth the purchase!
After a LOT of researching on the web, I finally opted for a rising desk from Ergo Desks. And it turned out to be a fantastic choice. The desk is very solid and stable with the weight of all my computer equipment, and nice and easy to put together. 👍😁
Pretty good desk!
So far, I have had this desk for two weeks. It is quite good! Meets my expectations of what I wanted from a standing desk - being able to program buttons to stand and sit, and having the desk at a good low height while sitting so that I do not need a foot rest. There is definitely wobble at the standing height for me, but it does not bother me as much as I thought it would. A cross bar could limit this to some extent, but currently I see no need for it.
I would recommend getting some real pictures to show it off. I was only confident in buying this desk due to watching a guy on YouTube talk about it. Some real pictures definitely would have had me clicking the buy button sooner. Not a fan of the renders.
Sturdy, go-to, multi-monitor master
After a year and a half of working from home from a kitchen table with a poor office chair, suffering from lower back aches and pains, I finally decided to make the space and take the plunge on purchasing a new desk chair, and standing desk.
I've a multi-monitor setup (38" and 27" monitors) that I wanted side-by-side (mounted on arms) whilst also having sufficient room for a tower case and enough room for keyboards/laptops in front (and not be wobbling around with all those items when leaning on the desk).
I'd decided on a 6ft desk (aiming to be a one-off purchase that would last a long time so I wanted the room/space) but that did limit options/alternatives (ergodesk one of those left when I'd filtered others). I was initially a little put off by the price but reviewing alternatives across the internet review sites, YouTube and other standing desk owners, the general consensus was that the cheaper alternatives weren't that sturdy and/or speed of desk ascent/descent was too slow, or they just stopped working.
I've had the desk over 3 months and I now work standing up every day now (with a Fluidstance balance board) and have had a noticeable improvement with back and legs. Desk is sturdy and holds the monitors and my arms/upper body weight when leant on and I found just 2 programable heights to be enough (I did initially think I may need more, but no).
I would have been nicer to have the table come with cable trays/tidies for non-desk cabling (e.g. monitors/keyboards etc.) so had to buy those separately and screw them into the underside.
Delivery was pain-free (and the delivery driver did help me get the desk into the lift and up to my flat - not sure all would do that). The desk was well packaged although bottom of the legs had minor scratches which aren't noticeable day-to-day - the desk came with some large inflatable "super air/bubble bags/wrapping with desk corners/edges protected from damage in transit - those airbags also came in handy for kneeling on and resting the desk on during construction. I did manage to set this desk up on my own but I'd probably recommend you find somebody to help (6ft desk, in addition to the legs, is quite weighty).
The desk and chair have been my most valuable (and expensive) purchase of the year, but upfront cost will be worth a lot more years of value, I'm sure.
Finally, just as a learning/tip… Once you setup your desk, and if you put it in front of a wall and, especially if you have monitor arms, make sure you ensure the desk is far enough from the wall before you press the button to raise the desk - the desk motor is strong enough to create a 12" scratch up your wall - I wouldn't blame the desk for that though. :)
Excellent service
Really excellent service - we had a few issues (as the buyer) and all were dealt with in a professional, friendly and efficient manner. Can not fault the company at all.
Great desk
I spent a lot of time researching different standing desks at various price points, but ultimately landed on this particular one after watching a lengthy review.
I have now owned this desk for 6 months and am very pleased with it. I was initially worried about sturdiness after having owned an Ikea Bekant that wobbled quite badly from side to side. The Autonomy Pro is much more robust and there is virtually no wobble, even when raised. It is a sturdy frame with an excellent mechanism (especially happy about being able to raise/lower without having to hold the button down), and the desktop is a thick, quality material.
Really pleased with the instructions as well, a tad confusing at first but managed to build it on my own in a couple of hours.
Packaging was excellent too, and both desk and frame were protected with foam and wrapped in plastic to prevent damage.